As a critical piping component, 4-way fittings enable junctions and changes of direction to efficiently transport fluids. Manufactured from corrosion-resistant galvanized steel, these versatile fittings contribute longevity and reliability to plumbing, irrigation, and industrial piping installations. This post explores the advantages 4-way galvanized pipe fittings bring to engineered systems.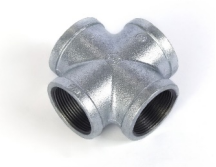 Standard 4-Way Fittings
Standard 4 way fittings meet 4 way galvanized pipe, feature a compact, cross-shaped design ideal for quick connection of four pipes at a 90-degree intersection. Commonly available options include:
4-Way Crosses: With threaded, socket weld, or butt weld outlets for joining schedule 5 to 80 pipe sizes.
4-Way Tees: Function similarly but have three straight outlets and a 90-degree branch to connect to adjacent piping.
4-Way Laterals: Resemble crosses but connect three straight pipes to a lateral/branch outlet.
Reducers: Transition multi-way connections between different pipe diameters as needed.
Galvanized coating guards against corrosion for long service life handling various non-aggressive fluid mediums. Structural integrity exceeds ASME/ANSI B16.9 standards.
Appeal of 4-Way Galvanized Pipe
Galvanized steel's durable zinc coating provides cathodic protection as a sacrificial barrier. Its strengths benefit Projects:
Corrosion Resistance: Withstands water, air, mild chemicals better than bare steel without costly alloys.
Strength & Rigidity: Robust piping maintains system integrity under working pressures and structural stresses.
Low Maintenance: Zinc coating forms a self-healing patina, eliminating need for protective wrapping/coating.
Longevity: Properly installed fittings last 30+ years, avoiding replacements that disrupt operations.
Cost Effectiveness: Affordable initial costs coupled with minimal maintenance save money over the lifecycle.
Code Compliance: Meets plumbing/building standards for potable water, HVAC, fire protection and more.
Common Applications
Common uses for 4-way galvanized pipe fittings include:
Plumbing Systems: Potable water distribution, drainage/vent lines, and compressed air.
Irrigation Networks: Transporting water under pressure to lawns, fields, and greenhouses.
Industrial Plants: Steam, gas, air, chemicals and process utilities distribution throughout facilities.
Agriculture Systems: Water conveyance and chemical/fertilizer injection for large-scale farming.
Construction Sites: Temporary piping to supply utilities during renovation/new builds.
Count on durable 4-way galvanized pipe fittings to withstand demanding operating conditions across manypiped fluid transfer applications for decades.