Introduction About Black Malleable Iron Pipe Fitting
When undertaking plumbing, gas line, railing, or structural projects using metal pipes, you need fittings that are just as sturdy and long-lasting as the pipes themselves. Black malleable iron fittings are the top choice of professionals and DIYers alike when strong, secure pipe connections are a must. Let's examine what makes these fittings so popular and well-suited for industrial, commercial and residential applications.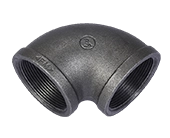 What Are Malleable Iron Fittings?
Malleable iron is a type of cast iron that has been heated and treated to make it more flexible and workable than standard cast iron. This gives it enhanced properties over regular cast iron pipes and fittings. Malleable iron fittings include elbows, tee joints, crosses, couplings, flanges, reducers, and caps.
The "black" designation refers to the dark matte finish of uncoated malleable iron. Some fittings have galvanized zinc coatings or enamel paint for corrosion resistance, but black fittings are the most common type.
Benefits Of Using Black Malleable Iron Fittings
Black malleable iron has many advantages that make it so popular for pipe fitting systems:
Extremely strong and rigid – Provides secure structural strength for pipe connections.
Withstands very high pressure – Suitable for gas lines, compressed air, high pressure water.
Corrosion resistant – The cast iron is rust-proof.
Fireproof – Black iron doesn't melt or burn up in high heat.
Thick walls – Durable and less prone to cracks from overtightening.
Good conductivity – Useable for electrical grounding applications.
Industrial aesthetic – The black finish lends an attractive industrial look.
Low cost – More affordable than steel, brass or chrome fittings.
Code approved – Meets International Plumbing Code requirements.
Common Applications For Black Fittings
Here are some of the main uses for black malleable iron pipe fittings:
Plumbing systems – All types of supply, drain and vent piping.
Gas lines – Safe and code approved for natural gas and propane.
Compressed air lines – Withstands high psi for industrial use.
Structural frameworks – For railings, poles, heavy load bearing structures.
Furniture building – Table legs, shelving supports and accents.
Decorative features – For that urban industrial look.
Choosing The Right Fitting Shape And Size
Black malleable iron fittings come in a vast array of configurations and sizes. Common shapes include:
Elbow – 90° and 45° angles for changing pipe direction.
Tee – T-joints to connect branch and main runs.
Cross – 4-way connector for joining 4 pipes.
Coupler – Inline connector for joining two pipe lengths.
Cap – End cap for sealing open pipe ends.
Bushing – Reducing connector to transition between pipe sizes.
Union – Threaded on both sides for quick connect/disconnect.
Flange – Ring for bolting piping to walls or equipment.
Fittings are sized by inside diameter (ID) to match the piping. Common sizes are 1/2″, 3/4", 1", 1-1/4", etc. Getting the right shape and size ensures proper fit and function.
Installation Tips For Your Project By Using Pipe And Fittings
Follow these tips for leak and trouble-free black malleable iron fittings:
Deburr and clear any obstructions from pipe interior.
Apply joint compound or pipe tape to external threads.
Hand tighten as far as possible, then use a wrench to finish tightening.
Support straight runs with pipe clamps to prevent sagging.
For potable water lines, use NSF61 certified fittings.
Don't excessively overtighten or you may crack the fitting.
Test completed system for leaks under pressure before finishing work.