Wholesale Black Equal pipe fitting tee
Generally speaking, the tee joint is actually one of the pipe parts, and its main connection form is to directly weld the tee pipe and the steel pipe together. Generally, the tee will be divided into ordinary tee, or ferrule, or socket type, and the most common threaded type according to different connection methods. Different styles of tees are used in different places.
Jianzhi Thread Equal Tee Pipe Fitting is a kind of  malleable iron pipe fittings manufactured by Jianzhi.Threaded Pipe Tee have the same inlet and outlet sizes. Threaded Tee Fittings are used in different industries applications like chemical processing, oil refineries, petrochemical and many other industries. We also supply Forged Threaded Tee in customized size as per customer requirement.
Tee pipe fitting technial data:
Working pressure: 25 BAR/363PSI/ 2.5MPA/CLASS 150/PN25
Temperature: 200°C (392°F)Tensile Strength: 2350MPA
Elongation: 210%Hardness:≤HB150
*ISO7-1 is for pressure-tight joints on the threads,ISo228 is for pressure-tight joints not on the threads.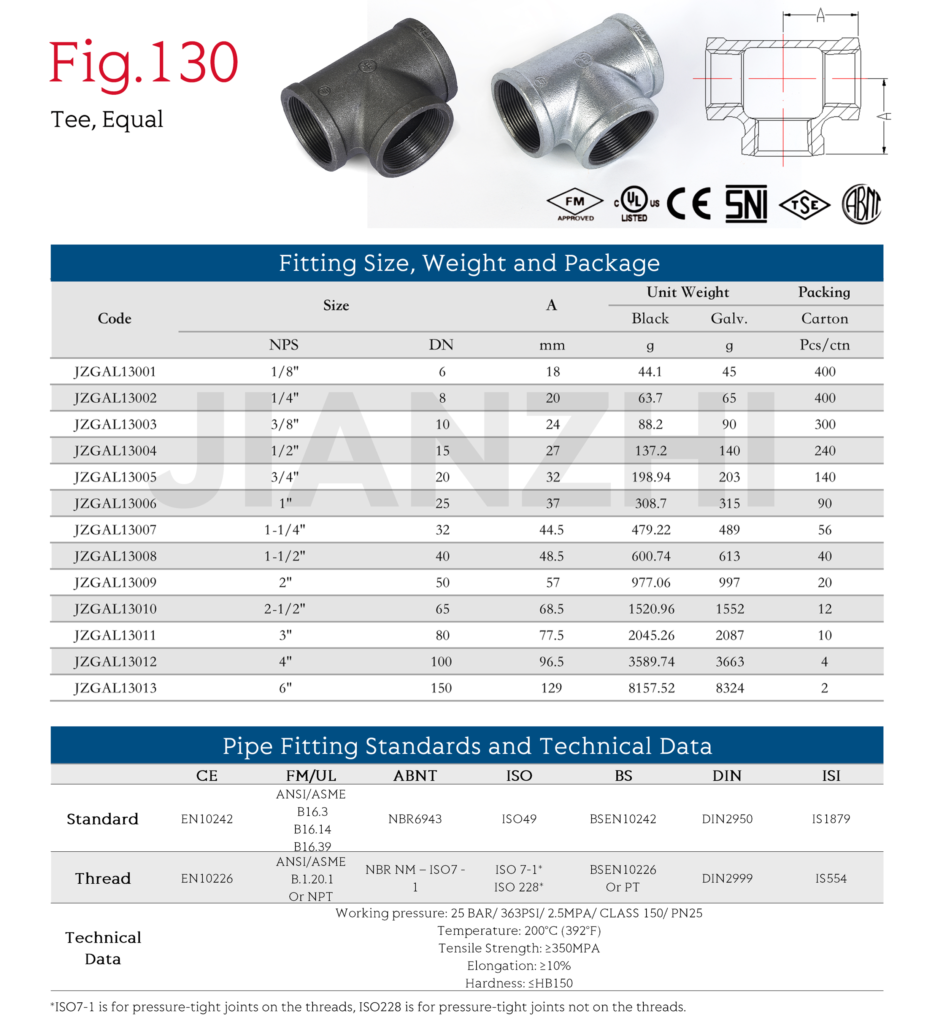 tee pipe fitting
FAQ:
What is a tee in pipe fitting
Pipe Tee is a type of pipe fitting which is T-shaped having two outlets, at 90° to the connection to the main line. It is a short piece of pipe with a lateral outlet. Pipe Tee is used to connect pipelines with a pipe at a right angle with the line. Pipe Tees are widely used as pipe fittings.
Black Equal Tee Pipe Fitting Advantage
Malleable iron is obtained from an iron-carbon alloy with a carbon content of more than 2.14% as a result of eutectic transformation during crystallization. Using KTH330-08 malleable cast iron, the tensile strength of JianZhi products is 10% higher than the national standard, and the elongation is 33% higher than the national standard.
Due to the many advantages of our fittings, they can show outstanding advantages during the installation process. Using our products can greatly speed up installation and reduce installation costs.
Our fittings have FM and UL certificatiion. The thread accuracy and length conform to international standards.