Subject: Invitation to Saudi International Fire Expo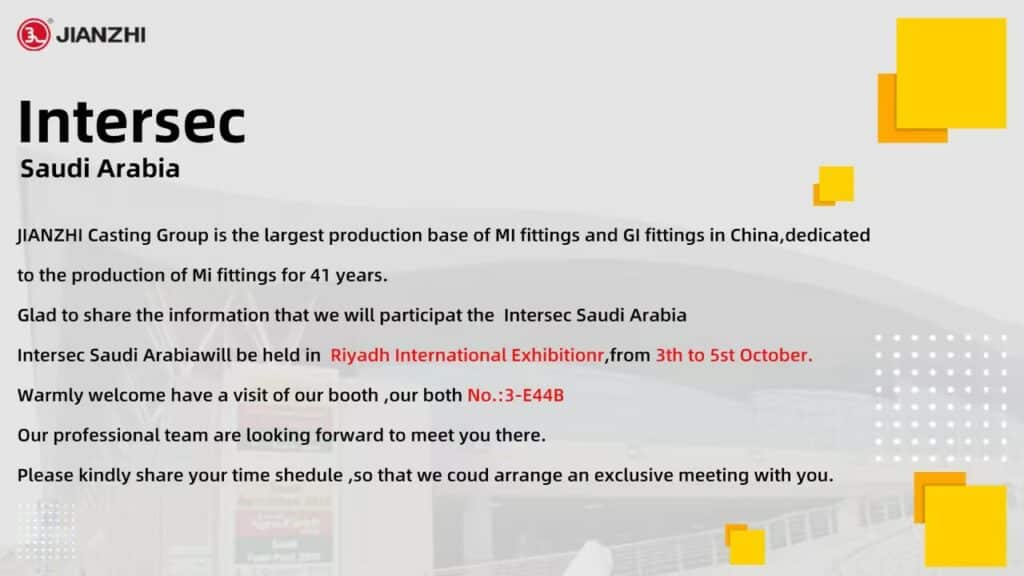 Dear customer,
I hope this message finds you in good health and high spirits. It gives me immense pleasure to extend a warm invitation to you for the upcoming Saudi International Fire Expo, where I am thrilled to be exhibiting my latest creations.
Saudi International Fire Expo promises to be an exceptional event, bringing together a diverse array of talented artists and creators from various disciplines. This exhibition will be a celebration of creativity, innovation, and artistic expression, and I am honored to be a part of it.
As an exhibitor I am particularly pleased to be able to showcase products from malleable iron and grooved products which I believe will captivate and engage visitors in a truly memorable way.
The details of the exhibition are as follows:
Date: 3th to 5st October
Venue: Riyadh, Saudi Arabia
Booth Number: No.:3-E44B
I would be delighted if you could spare some time to visit my exhibit. Your presence would mean a great deal to me and would undoubtedly enhance the experience.
Should you have any questions or require further information, please do not hesitate to reach out to me. I am more than happy to assist.
Thank you for considering my invitation. I am looking forward to the opportunity to share my work with you and to immerse ourselves in the artistic atmosphere of Saudi International Fire Expo.