Fire pipe is a fire pipe with metal chain interface, as a special material made of products, its convergence operation is very simple, without special professional skills, ordinary workers can operate through a brief training. On the other hand, the performance intensity of fire pipe fittings in connection sealing, compression resistance and other aspects is relatively high.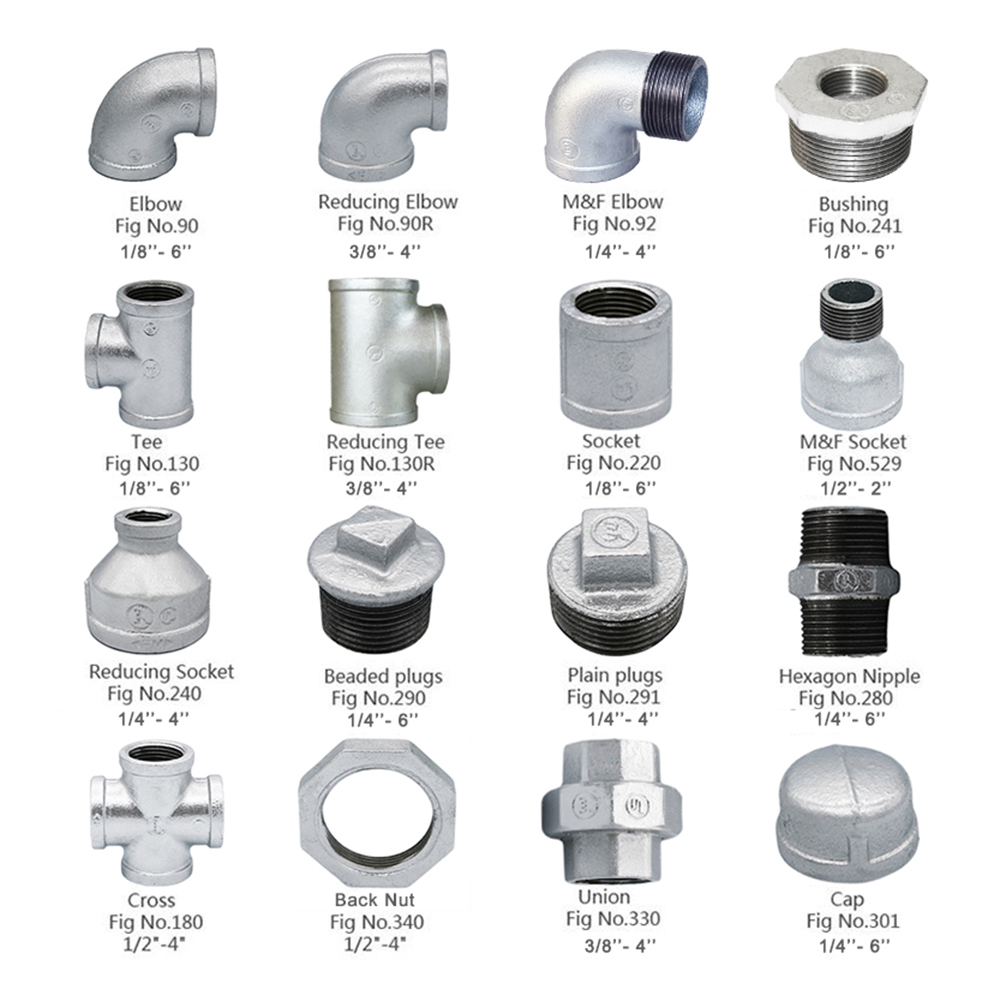 Fittings for fire trench pipes fall into two categories:
The pipe fittings which play the role of connecting and sealing are rigid joints, flexible joints, mechanical tees and grooved flanges;
From the role of connecting the transition of pipe fittings elbow, tee, four-way, reducing pipe, blind, etc.
The fire groove pipe fittings which have the function of connecting and sealing are mainly composed of three parts: sealing rubber ring, clamp and locking bolt. The rubber sealing ring located in the inner layer is arranged on the outer side of the connecting pipe, and tallies with the groove which is rolled in advance, the outer part of the rubber ring is buckled with a clamp, and the clamping ring is fastened with two bolts. As the rubber seal ring and the clamps have an airtight structural design, the grooved connector has good airtightness, and the sealing property increases as fluid pressure increases in the tube.

Introduction of several common fire pipe fittings:
drainage fire pipe fittings:

ordinary drainage cast iron pipe socket and pipe fittings. Flexible anti-seismic interface drainage straight cast iron pipe, this kind of iron pipe is sealed with rubber ring, bolt tight, under the internal water pressure has excellent flexibility, flexibility. The utility model can adapt to larger axial displacement and transverse deflection deformation, and is suitable for the indoor drainage pipe of high-rise building, which is very suitable for earthquake zone.

Water supply cast iron pipe:

Mild high, thin wall, pressure, impact, corrosion, seismic resistance and other properties. The pipe joint is flexible and has certain elongation and deflection angle. Utility models combine the advantages of pig iron and steel pipe fabrication without the disadvantages of steel and iron. In addition, water supply cast iron pipes have a high pressure pressure, making them suitable for water and gas transportation.  

sand centrifugal fire pipe:

sand centrifugal cast iron pipe raw material for gray cast iron, suitable for water and gas pressure fluid transport.

continuous fire straight pipe:

continuous fire directly connected with the fire ash pipe, suitable for water and gas pressure fluid transport.

Models of Fire Pipe Fittings:
Galvanized pipe fittings:

Generally DN15 (1 / 2 "), 20 (3 / 4"); 25 (1), 32 (1 1 / 5 "). 40 (1 3 / 3"). 50 (2) "), 65 (1 / 2 "), 80 (2 / 3 / 4") (100 (4), 125 (5), 150 (6), 200 (8)) .The name is respectively: the wire elbow, wire straight through, the wire directly outside the head, size reduction head, is the tee, tee reduction, flange.

Clamp accessories:

Generally DN65–DN200. (Design requirements: DN100 or more pipe clamps) The names are: trench elbow, tee. Rigid clamps. Grooved concentric reducer. Groove reducing four – way, reducing tee, tee. Mechanical tee (threaded type). There are two types of reducing tee, threaded and grooved.   Short pipe flanges, wire connection flanges and flanged pipe clamps.

The commonly used fire pipe is DN25, DN32, DDN40, DNS50, DTN70, DNH80, DNA100, DNP125, DNG150, and DN200 of these specifications.