Different types of cross fittings are used to connect plumbing pipes at 90 degree angles. Black pipe cross fittings, made from steel pipe with a dark finish, are commonly used for water, gas and drainage systems.
Black Pipe Cross Fittings
Black pipe cross fittings come in different configurations to suit various plumbing needs:
Cross tees (T fittings)- Connect three pipes at right angles. Used to split or join pipe lines.
Cross couplings – Connect two pipes at right angles. Often used with cross tees to change pipe direction or join perpendicular pipes.
Laterals – Short sections of pipe threaded on both ends to connect at 90 degrees.
Sweeps/elbows – Bend pipe at 90 degrees in one plane. Used to change pipe direction.
Wyes (Y fittings) – Split pipe flow into two directions at an angle.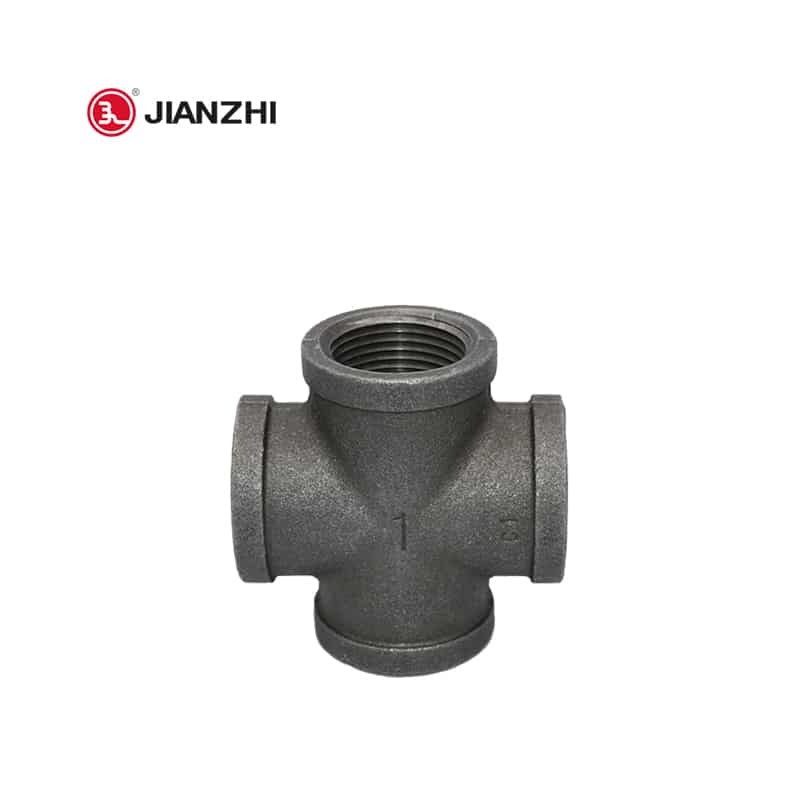 Black pipe cross fittings are typically made of Schedule 40 steel pipe with either a black enamel or galvanized coating for corrosion resistance. They are available in threaded NPT and BSPT connections in sizes from 1/2 inch to 6 inches in diameter.
Black Pipe Cross Tees
Cross tees are one of the most common types of black pipe cross fittings. They connect three pipes together at right angles with a tee-shaped junction:
Simplicity – Basic tee shape allows three-way connections with ease.
Versatility – Can split or combine pipe lines running in perpendicular directions.
Reduces elbows – As a compact fitting, cross tees require fewer elbows than other options.
Low cost – Are typically an inexpensive fitting choice.
Cross Tees Fit Into Two Main Categories:
Threaded – Uses tapered threads to connect crosswise pipe.
Grooved – Uses gaskets and mechanical coupling joints for a secure seal.
Threaded cross tees are commonly used for gas, water and drain services. They provide an affordable, straightforward fitting option for basic cross connections at 90 degrees.
Teaching You How To Choose Black Pipe Cross Fittings
Choosing the proper black pipe cross fittings for your specific plumbing applications ensures a secure seal and optimal flow. Consider installation requirements, working pressures and corrosion resistance when selecting fittings for gas, water, sewage and other systems. Black pipe cross fittings are versatile options for connecting pipes at right angles for a wide range of plumbing needs.