Malleable Iron Fittings Overview
Malleable iron fittings are cast from specially formulated iron mixtures that retain ductility after forming, allowing them to deform around threads or flanges without cracking. The material offers several advantages over brittle cast iron or plain carbon steel fittings:
Corrosion Resistance – High graphite content yields a surface that resists rusting and corrosion better than uncoated steel.
Strength & Durability – Strong pipe materials withstand water hammer and other stresses common in piping over the long term.
Formability – Ductile composition permits threaded or flanged joints to seal tightly even after repeated assembly/disassembly.
Chemical Resistance – Suited for mildly corrosive services involving water, steam, natural gas and various industrial process applications.
Manufacturability – Casting allows efficient production of complex elbows, tees, couplings and other piping components in a range of standardized sizes.
Leading Chinese producers utilize stringent quality control and advanced casting/heat-treating techniques to manufacture malleable iron plumbing fittings meeting ASME/ANSI B16.3 and other global standards.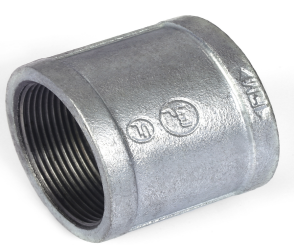 JIANZHI – A Reliable Manufacturer
Established over 30 years, JIANZHI manufactures an extensive line of threaded, welding neck and slip-on flanged malleable iron fittings up to 24 inches. Their facility houses state-of-the-art production and testing equipment ensuring product consistency:
Automatic sand molding lines streamline pattern production for precise dimensions.
Computerized heat treatment furnaces cure castings to the exact ductility properties specified.
100% RT testing certifies fitting structural integrity before shipment.
Robust black finish paint resists corrosion better than bare or galvanized coatings.
JIANZHI maintains full traceability from iron melting through finishing to back product quality. Strict quality assurance also meets ISO, SABS, DIN and other international piping material certifications.
Applications Of Malleable Iron Pipe Fittings
With excellent stress-bearing performance, black malleable iron pipe fittings from JIANZHI find widespread usage globally:
Industrial Piping – Production facilities, refineries and power plants rely on the fittings' strength and chemical resistance.
Water Distribution – Municipal water mains, sewer lines and irrigation systems depend on the fittings' longevity underground.
Commercial Plumbing – Multi-story buildings utilize durable fittings to transport water safely for decades.
HVAC Systems – Steam, hot water and chilled water systems use fittings engineered to withstand pressure/thermal cycling.
Energy Industry – Oil/gas extraction, processing and transportation leverage fittings suitable for harsh field conditions.
When critical piping applications demand fittings built to last, engineers specify JIANZHI malleable iron products backed by over three decades of proven product quality.