If you are planning to import malleable iron pipe fittings from China, the first thing you will do is probably to search online for Chinese malleable iron pipe fittings factories. But is the supplier you found this way really a factory, instead of a trading company?
Before you put down any deposit, let's take several minutes to learn a few essential facts about importing from China.
Don't want a trading company?
Jianzhi Group helps you find the suitable malleable iron pipe fittings manufacturers in China.
Which city in China has the best malleable iron pipe fitting factories?
The quality of malleable iron pipe fittings depends largely on the raw material used in them and casting process.
Similar to what happens with other products, some places in China produce much better malleable iron pipe fittings than others!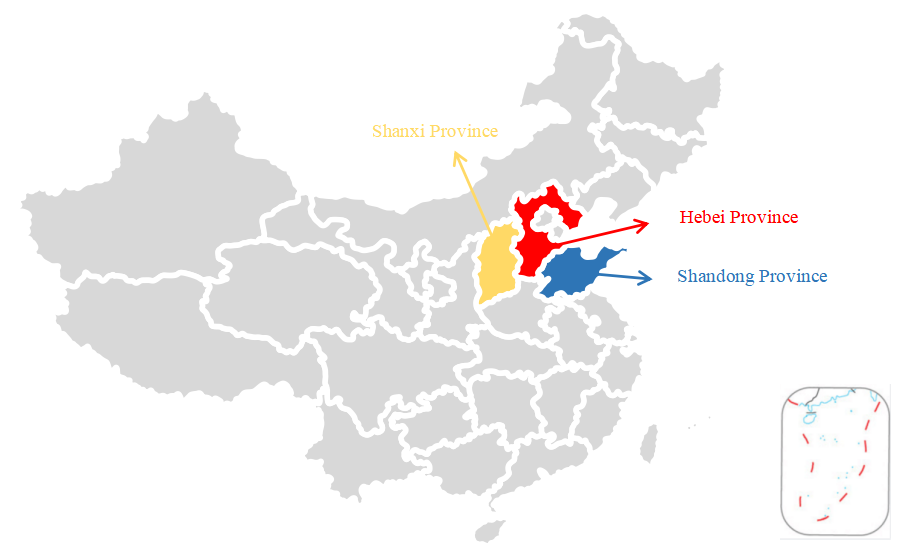 I'll give you the names directly. These malleable iron pipe fittings industrial clusters are Tangshan and Shijiazhuang in Hebei, Pingyin and Linyi in Shandong, Taigu in Shanxi, and Ganzhou in Jiangxi.
Out of the four provinces that produce malleable iron pipe fittings, Yutian in Hebei (Jianzhi fittings) and Pingyin in Shandong (Mech fittings) have two well-known factories. Both brands are renowned in China and overseas. Both of them have an advanced production facility and a large production base. Jianzhi Group is mainly engaged in malleable iron pipe fittings and grooved pipe fittings, professional casting group. Meide Group is a comprehensive group company. Its products cover pipe fittings, valves, seismic brackets, hoses and other products. Of course, you can also find suitable suppliers in other provinces, depending on your needs.
On the other hand, pig iron and scrap steel are the primary raw materials used in the production of malleable iron pipe fittings. Jianzhi Group's scrap steel meets the requirements for environmental protection. The standard is Q235B. The quality of its pig iron meets the international high-purity pig iron standard, purchases from Benxi Shentie Iron Group, and this company is the "National High-Quality Foundry Pig Iron Base" established by the China Foundry Association.
In China, trading companies may quote 15 to 50% more than their factories. And some trading companies' services are not better than the factories, which means the extra price you pay is meaningless.
While not all factories are good suppliers, I'm going to present two simple tips to let you know how to determine whether it's a factory or a middleman.

Check supplier's location:
Typically, Chinese factories are located in suburban or industrial areas, an hour's drive from the city center. It is likely that a supplier with an address in an urban area will be a trading company rather than a manufacturer. However, in another instance, because the suburban area is too far from city center, some factories rent a space in city center to hire more professional traders. These offices often have the same name as the head office. An example of this is Jianzhi Casting Group, Jianzhi International Trade (Tianjin), Jianzhi International Trade (Tangshan), etc. If the name of a factory is very different from the name of his office, please pay attention.
If you cannot travel to China yourself, how can you locate a supplier? It might be helpful to use Google Street View.
But, and this is an extremely crucial fact, Google is not available in China for some reason. This includes Google Search, Google Maps, etc.
But it's not hopeless. You can try using Baidu, the Chinese version of Google. As with Google, you just need to type in the corresponding Chinese address. You can use Baidu Street View to see how the address looks like.
Or, you can request the supplier send you their location on Google Earth.
See how many product categories they're carrying:
All genuine factories usually focus on producing only one or two types of products.
It is because a manufacturer requires specific equipment, raw materials, and specialized workers to produce a product.
If a factory produces many different types of products, they would need to invest in completely different production equipment, so it would be almost impossible for that to happen. Unless it is a group company, the owner of the company will invest in many related factories. At the same time, the unit price of products of large companies will be higher than that of ordinary factories. But this situation is not particularly common.
Suppose there is a Chinese supplier that deals with malleable iron pipe fittings, but also sells PVC pipe fittings, stainless steel fittings, pipes, and brass fittings, etc. In that case, they are likely to be middlemen whose business model is to rent a showroom to display and sell the factory's goods.
Where can you find a suitable factory for malleable iron pipe fittings in China ?
Internet
Alibaba is a B2B platform for Oversea Customers and is a member of the Alibaba Group.
Because some Chinese factories are not good at online marketing and writing descriptions in English before, usually, you can find them difficultly. But now, because of COVID-19, many factories have realized that they need a website, do some Google ads, open a store on Alibaba, or create Facebook, LinkedIn, and YouTube accounts, etc. Some factories also have professional operation employees. But how can we find a real factory on alibaba.com? Or how can we find a real factory on Internet?
There are several tips can help you.
Website
A professional factory usually has an official website. In most cases, the official website focuses on the company's production capabilities and main products. Some companies may also have targeted sub-sites for different products to meet different customers' requirements. These websites belong to the same group company. For example, Jianzhi have several websites:
The old factory website: www.jianzhi-fitting.com
Jianzhi malleable iron pipe fittings website: www.jianzhipipefitting.com
Jianzhi grooved fittings website: www.jianzhifittings.com
In addition, you should pay attention to the dynamic updates of the news on the website. Updating the dynamics regularly is a factor to ensure whether the factory operates smoothly.
Alibaba
First:
Look at the supplier tag to see if it displays the Floor Space, Total Staff, and Main Products. As a rule, the floor space and staff are relatively larger, and the main products are one or two types.

When compared with the above image, this company does not show any floor space or staff. Its main products include many different types of products. Usually, it is a trading company or a small factory that produces one or two types of products.

Second:

Enter the supplier's store on Alibaba and look for the TUV or SGS reports. Look at the bottom of the company profile, you will find it. Download the reports. You may find there are one or two reports, that is no problem, download them both. Or you can click the "eye" to preview the reports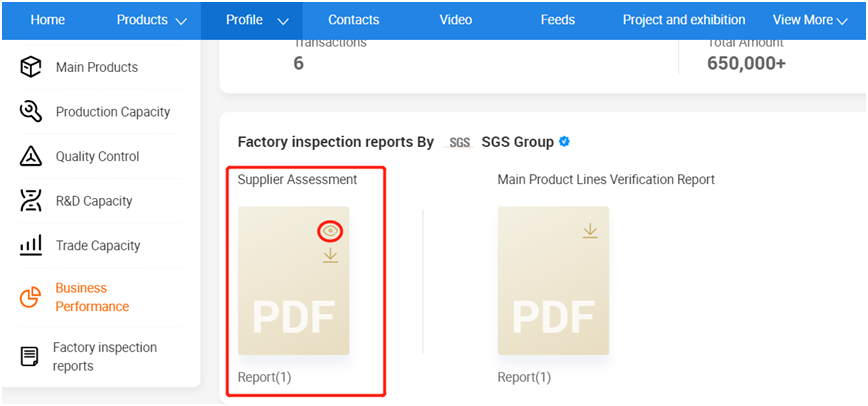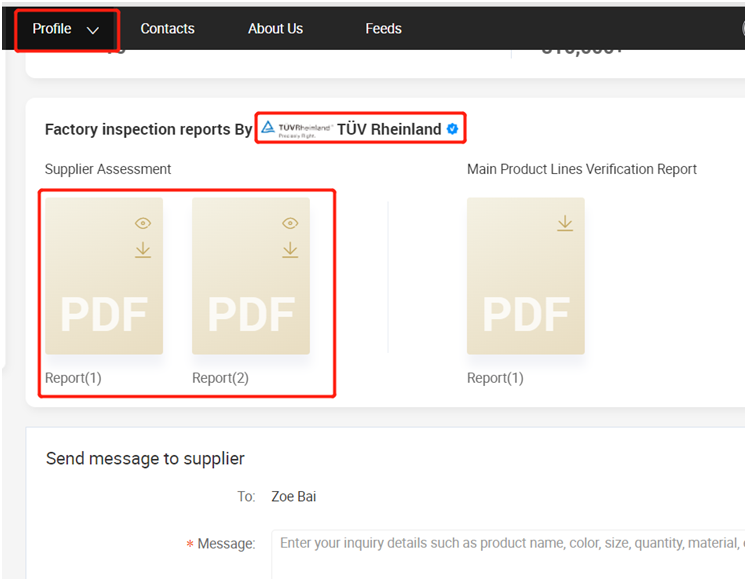 Third:
When a supplier has one report, the relationship is "self-owned". This is a factory, and there is real space and employees. The report below is an example: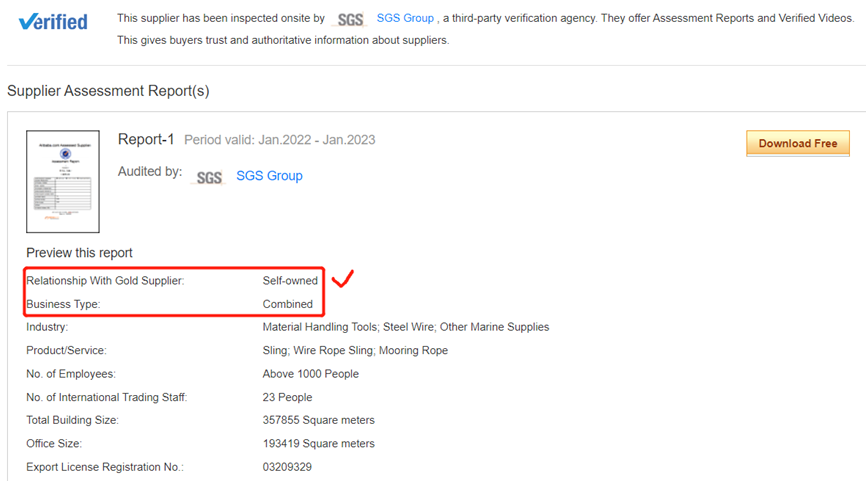 When the supplier has two reports, please read the second <Report 2>. The relationship is "shareholder/partner" and the business type is "manufacturer", as well as the actual site and employees. The report below is an example: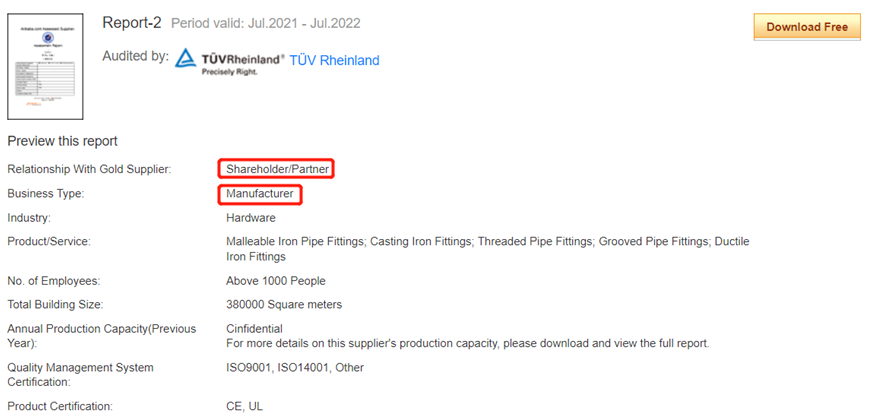 If you find the supplier has 2 reports, but the relationship is "Cooperation Partner", and the business type is "Trading Company", that means, this supplier is a trading company.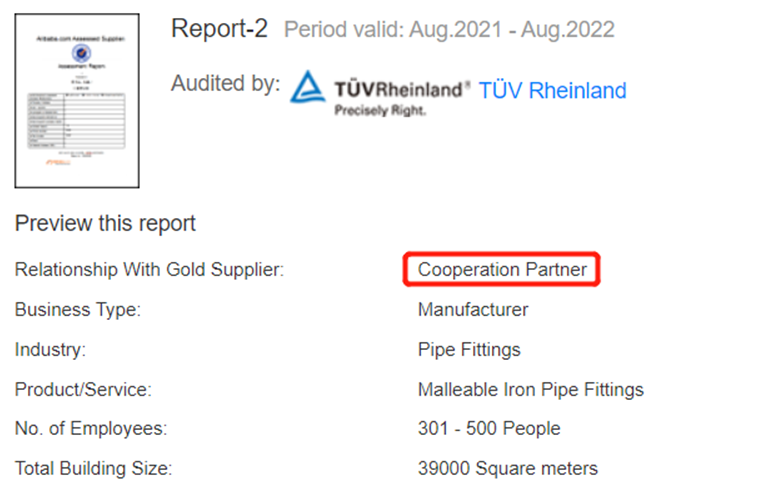 If you find the business type is "Manufacturer, Trading Company", there are two reports.
The company is not a factory, but there are related factories and certification rules related to the integration of industry and trade: (any one of the following can be satisfied)
① a and b are shareholders of each other, accounting for >=50% of the shares
② a and b have a common shareholder with a share ratio >= 50%
③ a and b have multiple common shareholders, the cumulative share is >= 50%, and all shareholders sign the concerted action confirmation letter, sign or seal
④ a and b are the same legal person
SNS (social media) Accounts:
In the same vein, factories are also increasingly valuing social media. They will also update their social media accounts synchronously with the news from the website. These posts may include specific dynamic information or videos.
For example, Jianzhi SNS Accounts:
Facebook Company Page: www.facebook.com/ironpipefitting
LinkedIn Company Page: www.linkedin.com/company/ironpipefitting
YouTube Company Page: www.youtube.com/c/pipefittings
This is a video from Jianzhi Manufacturer. It contains some industry knowledge. We hope that the video will be helpful for those interested in pipe fittings.
3.4.2) Exhibition
Unlike the world-famous Canton Fair, China Internation Hardware Show is a trade show focused on hardware and tools. Here you can find a wide range of pipe fittings. The show is held every in Shanghai, and the 2022 CIHS be held from Sep. 21 to 23. Of course, some factories also take part in different professional exhibitions all over the world, for example, the BIG 5, Aqua therm Moscow, Japan Build, and so on.
3.4.3) Malleable Iron Pipe Fittings Wholesale Market
Trade shows are usually only available at a certain time of the year, but if you want to come to China when there are no trade shows, you can go to the wholesale hardware market, which will have a wide selection of malleable iron pipe fittings.
Compare with the factory, the agents on wholesale markets have lower MOQ. But the price is a little higher than the factory, because of the quantity.
3.4.4) Purchasing Agent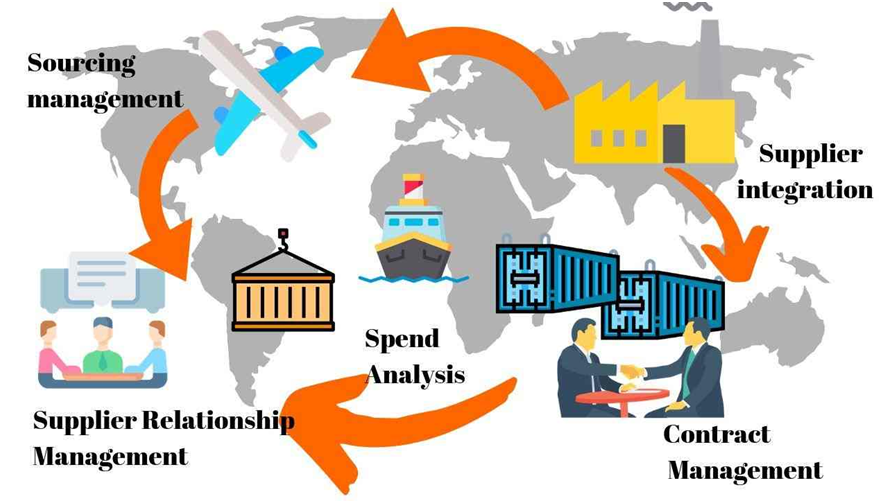 Purchasing agents are more familiar with the Chinese market and are better able to communicate with Chinese suppliers. They could assist you in finding the right factory, reducing costs, and handling the whole process of importing from China. Shorter lead times and reduced communication costs.
If you are importing goods from China for the first time, it is also an excellent idea to seek assistance from a reputable sourcing company.
Ok, this is the third article in our entire series, the next one will take you through the certification and compliance requirements that different countries should be aware of when importing malleable pipe fittings from China.